The 12 best movie trailers of 2021...so far!
Jun 29 Same Emmanuel 24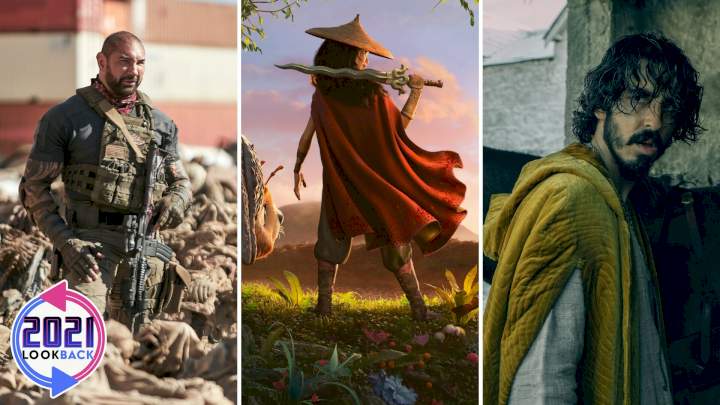 One of the things I've missed most about going to movie theaters this past year is watching trailers on a big screen. You may think that there are too many trailers before movies nowadays, but you can't deny that there's a special moment right after a really good trailer plays. In that moment, you can feel the excitement of the people in the theater around you, a collective sense of, "wow, we should go see that."
That's because trailers are an art form in themselves. They have to tease the most exciting parts of a movie without giving too much away, which is a hard balance to pay off. When done well, they get us invested and leave us with key images and dialogue that stick with us until the film's release.
Whether they're giving us an adrenaline rush or making us cry, the following trailers are all absolute winners that you'll want to watch again and again. Take a look at the 12 best trailers of 2021.
1. Raya and the Last Dragon
Raya and the Last Dragon'strailer covers so much ground in such a short amount of time: It serves as an introduction to the world of Kumandra, establishes Raya (Kelly Marie Tran) and Sisu's (Awkwafina) relationship, and even manages to throw in an epic action sequence involving a mischievous con baby. It's engaging from the very first second, and a perfect showcase for the film's gorgeous animation.
The trailer kicks into high gear in its last minute, with the use of Tamara Bubble's song "I'm That Good" lifting it from good to absolutely great. Suddenly, we're treated to snippets of high-intensity fight scenes, mostly between Raya and Namaari (Gemma Chan), setting up their rivalry and raising the bar for the film's action. It's epic, adrenaline rush-worthy, and absolutely makes you want to see what comes next. - Belen Edwards, Entertainment Fellow
How to watch: Raya and the Last Dragon is streaming on Disney+.
2. The Green Knight
Whosever idea it was to cast Dev Patel as a medieval knight (probably casting director Louise Kiely) in David Lowery's The Green Knight...thank you. Patel stars as Sir Gawain in an adaptation of Sir Gawain and the Green Knight (about some kind of tree man?), which means this trailer has a lot of him talking about chivalry and honor while looking outrageously good in chain mail and cloaks. Gawain's quest may be full of toil, but we will know only joy as we watch him on his journey. - Proma Khosla, Entertainment Reporter
How to watch: The Green Knight is in theaters July 30.
3. Zola
Zola, based on the epic 148-tweet Twitter thread by A'Ziah "Zola" King, pulls much of its aesthetic from social media. So does the trailer, which features onscreen likes, screenshots, and the buzzing of notifications. These details prime us for director Janicza Bravo's slick and stylized approach to adapting a piece of internet history. On top of that, the trailer is full of brilliant line deliveries by the cast (Taylour Paige's deadpan "word" is perfection), and its clips of escalating insanity come to life with Mykki Blanco's song "My Nene." When Zola (Paige) asks the instantly iconic question, "You wanna hear a story about how me and this bitch fell out?" you'll have no choice but to answer, "yes, 100%." - B.E.
How to watch: Zola is in theaters June 30.
4. In the Heights
Life works differently in musicals: Everything's heightened, from the drama to the visuals to the emotions, and set to the beat of a song. And that intensity is what comes across most of all in the stunning second trailer for In the Heights, which plays up the irresistible rhythm, the joy and heartbreak of the characters, and the awesome dazzle of the dance numbers. Though you can watch In the Heights on HBO Max, this trailer makes clear this film was meant to be seen on the big screen, with a big crowd to weep and laugh and cheer along with you. - Angie Han, Deputy Entertainment Editor
How to watch: In the Heights is streaming on HBO Max and in theaters now.
5. West Side Story
The trailer for Steven Spielberg's West Side Story could only ever open with drowsy Manhattan and the telling whistle tag of this musical - but it invokes full-body chills nonetheless. The whistles build, adding drums and bits of fanfare until we see the Jets' and Sharks' shadows confront each other, then cut to black.
The teaser's final 40 seconds are a dizzying blur of color and movement, from the iconic dance at the gym to fights between the gangs and intoxicating shots of dancing Anita. But whoever cut this trailer spared no emotion, setting that second half to a pared-down version of "Somewhere" sung by none other than the original Anita, Rita Moreno. Reader, I just sobbed upon a rewatch. Give this trailer an Oscar. - P.K.
How to watch: West Side Story is in theaters Dec. 10.
6. Army of the Dead
There's no denying Zack Snyder knows how to sell a movie. Set to an edgier take on Kenny Rogers' country tune "The Gambler," the explosive trailer for Army of the Dead starts syrupy and slow, but builds to the high-octane action Snyder fans love. In just three minutes, this preview introduces us to all the key facts we need about this zombie-heist hybrid, setting up an impossible burglary plan undertaken against a backdrop of Las Vegas-borne living dead.
It's an appropriately flashy first glimpse at what turned out to be a pretty fun movie. Sure, they didn't really deliver on that whole "They're smarter, they're faster, they're organized" tease - as it turned out, Army of the Dead's zombies weren't all that different from what we've seen on screen before - but Dave Bautista and that zombie tiger definitely lived up to the hype. - Alison Foreman, Entertainment Reporter
How to watch: Army of the Dead is streaming on Netflix.
7. Shiva Baby
Here's the thing: Shiva Baby is a comedy, but its trailer makes it feel like straight-up horror. Thanks to an unsettling score that would be right at home in any horror movie, close-ups on Danielle's (Rachel Sennott) increasingly unnerved face, and invasive dialogue that cuts to the bone, this trailer nails Shiva Baby's sense of claustrophobia and anxiety. There are still plenty of laughs throughout, with a final punchline that firmly sticks the landing, but the brilliance of this trailer lies in its ability to play with genre conventions without giving too much away. - B.E.
How to watch: Shiva Baby is available for rent or purchase on iTunes, Amazon Prime, YouTube, and more.
8. Eternals
For a long time, Marvel's Eternals has been a source of mystery, with an exciting ensemble cast featuring Gemma Chan, Kumail Nanjiani, Brian Tyree Henry, Salma Hayek, Angelina Jolie, and multiple Game of Thrones veterans but very little information about what the story actually is. That mystery finally started to fade in late May with the November movie's first trailer drop, a two-minute journey into the wondrous and seemingly magical world of this massive new roster of metahumans. - Adam Rosenberg, Senior Entertainment Reporter
How to watch: Eternals is in theaters Nov. 5.
9. The Suicide Squad
James Gunn's take on DC Comics' misfit team of day-saving anti-heroes is already looking like a massive step up from the 2016 abomination that introduced the world to LetoJoker. The April 2021 trailer for The Suicide Squad set up the new movie's dizzyingly impressive ensemble cast, with standout moments for John Cena, Idris Elba, David Dastmalchian, and, obviously, returning star Margot Robbie. And it's all set to a haunting rendition of Steam's classic, forever-hummable one-hit wonder, "Na Na Hey Hey Kiss Him Goodbye." - A.R.
How to watch: The Suicide Squad is in theaters and on HBO Max Aug. 6.
10. Judas and the Black Messiah
Judas and the Black Messiah first grabbed our attention with that fiery first trailer in 2020, but it was the second that gave us a better look at the human-sized hopes, fears, and concerns that really drive the characters - and the movie itself. Deborah Johnson's tender poetry, Fred Hampton's impassioned rhetoric, and the FBI's deceptively reasonable-sounding proposition braid together to paint a picture of a movement on the verge of brilliant progress or devastating tragedy, while a clock ticks down to their historical fates. - A.H.
How to watch: Judas and the Black Messiah is available for rent or purchase on iTunes, Amazon Prime, and more, and will be streaming on HBO Max starting July 1.
11. Last Night in Soho
Less is more in the trailer for Edgar Wright's upcoming film, Last Night in Soho. Equal parts thrilling, mysterious, and stylish, the trailer only features one line of dialogue and leaves much of the movie's story up to the imagination. However, what we do see is more than enough to pique our curiosity: hands bursting out of floorboards, lavish musical performances, and an eerie scene where Thomasin McKenzie and Anya Taylor-Joy mirror each other flawlessly, all set to Taylor-Joy's haunting rendition of Petula Clark's "Downtown." If Last Night in Soho can deliver even half of the atmosphere and intrigue of its trailer, then we're in for a treat. - B.E.
How to watch: Last Night in Soho is in theaters Oct. 22.
12. Venom: Let There Be Carnage
Seeing Venom (2018) now feels like a fever dream, partially because the Tom Hardy-led supervillain joint came out pre-pandemic, but also because the movie itself is so spectacularly weird. The first look at the sequel Venom: Let There Be Carnage puts you immediately back in that, uh, "unique" headspace with equal doses of humor, horror, and heart.
Not only are we reunited with the delightful dysfunction that is Eddie Brock and Venom, but we also get to see Woody Harrelson's take on rival symbiote Carnage and catch a pretty clever use of Harry Nilsson's "One is the Loneliest Number." The movie isn't out until September, but we're excited (and a little worried for Mrs. Chen) right now. - A.F.
How to watch: Venom: Let There Be Carnage is in theaters Sep. 24.